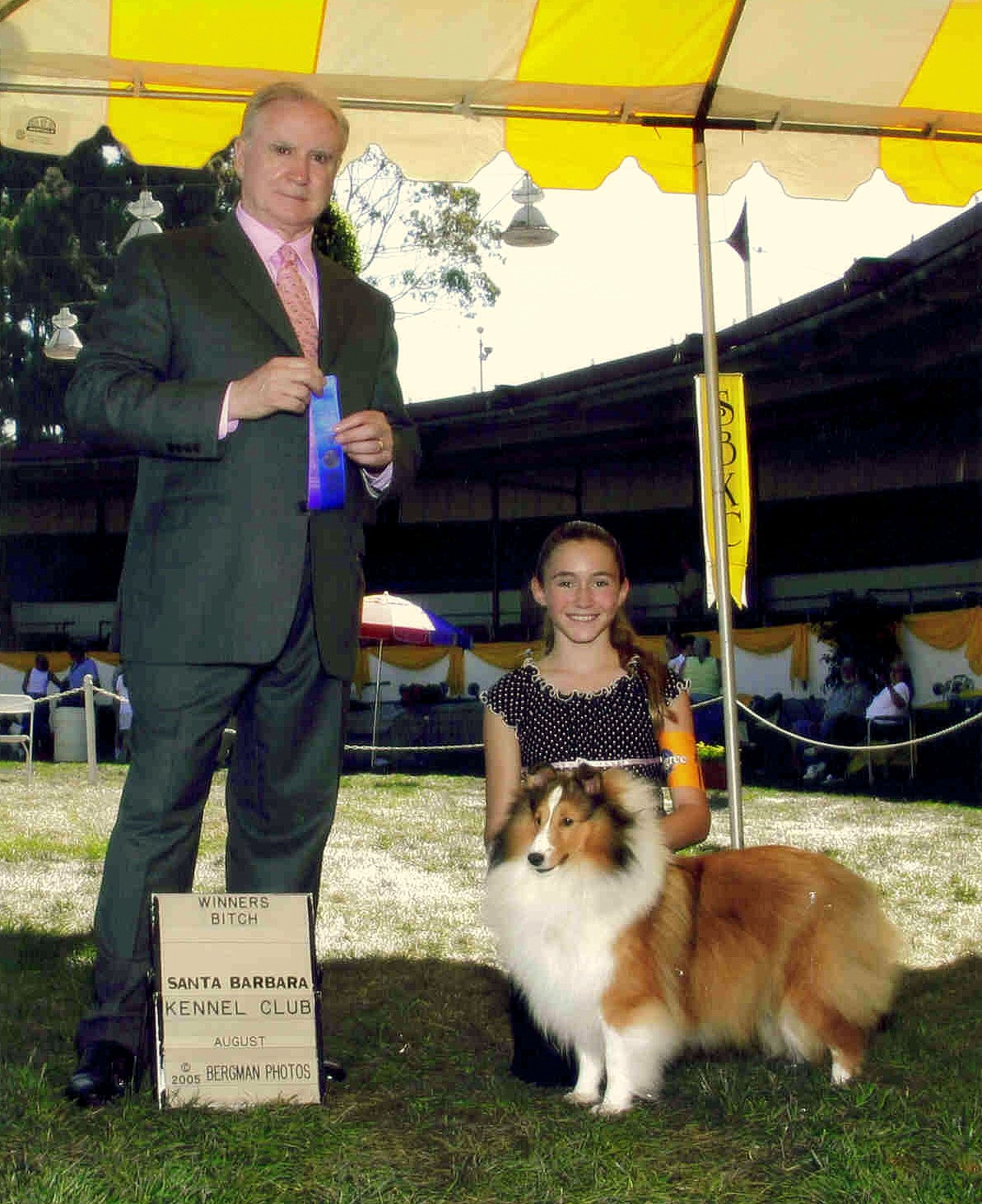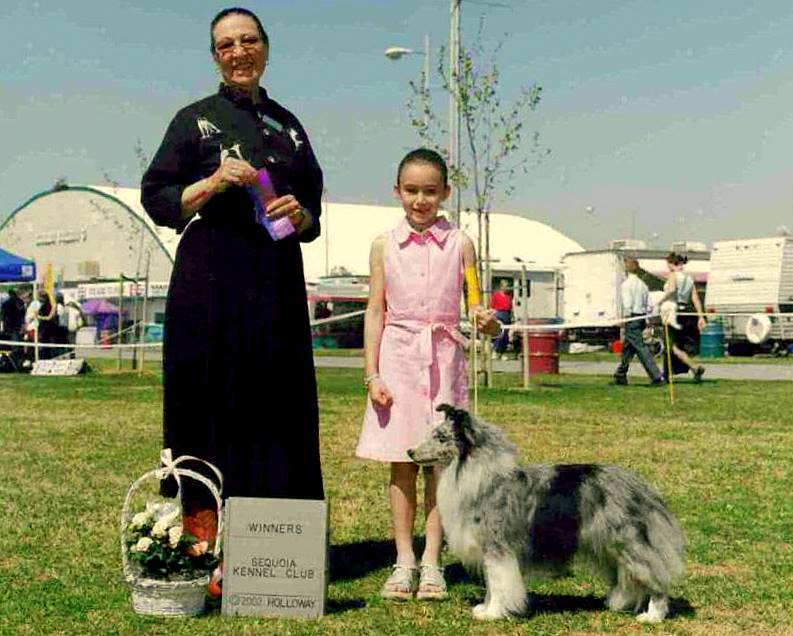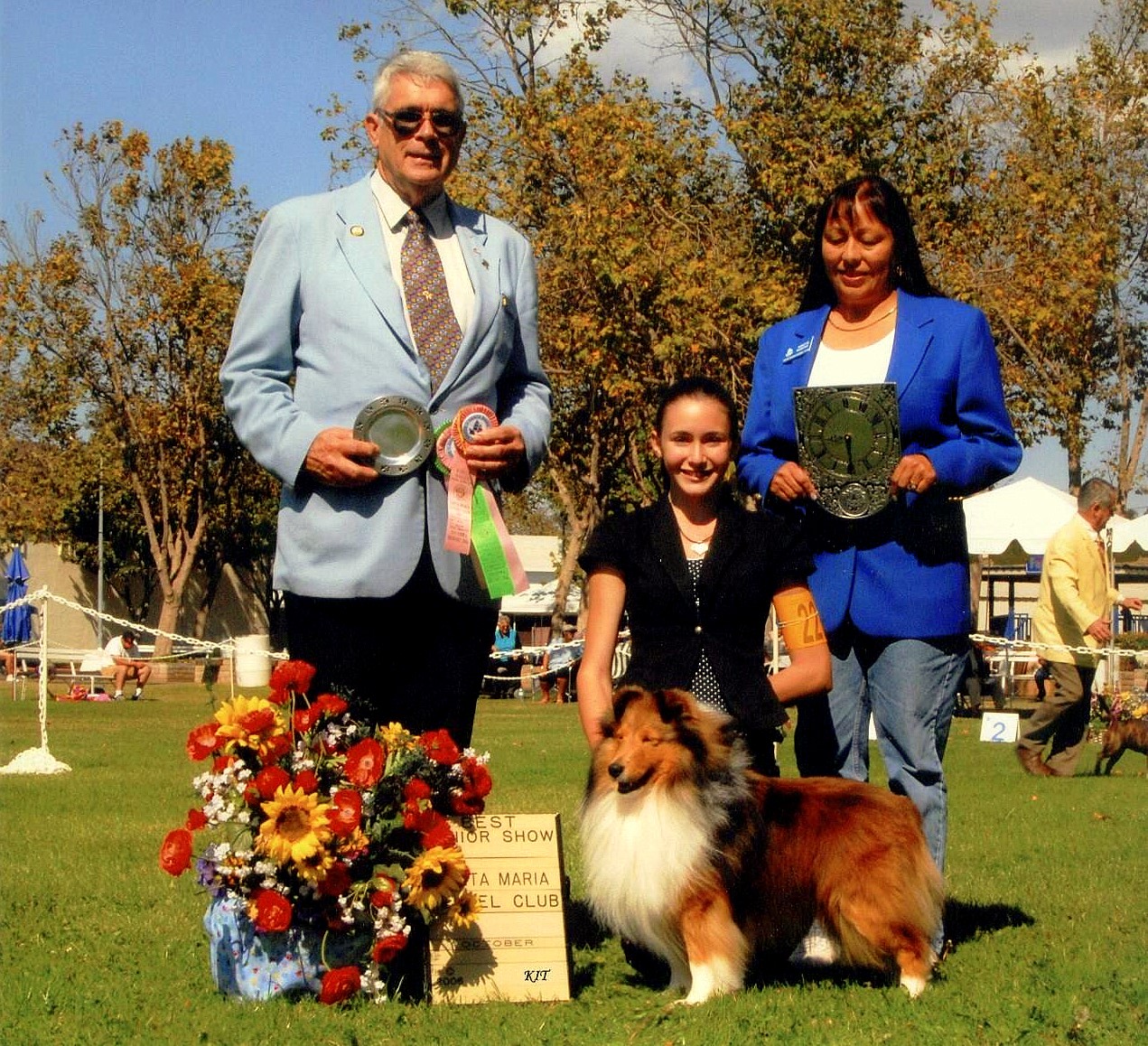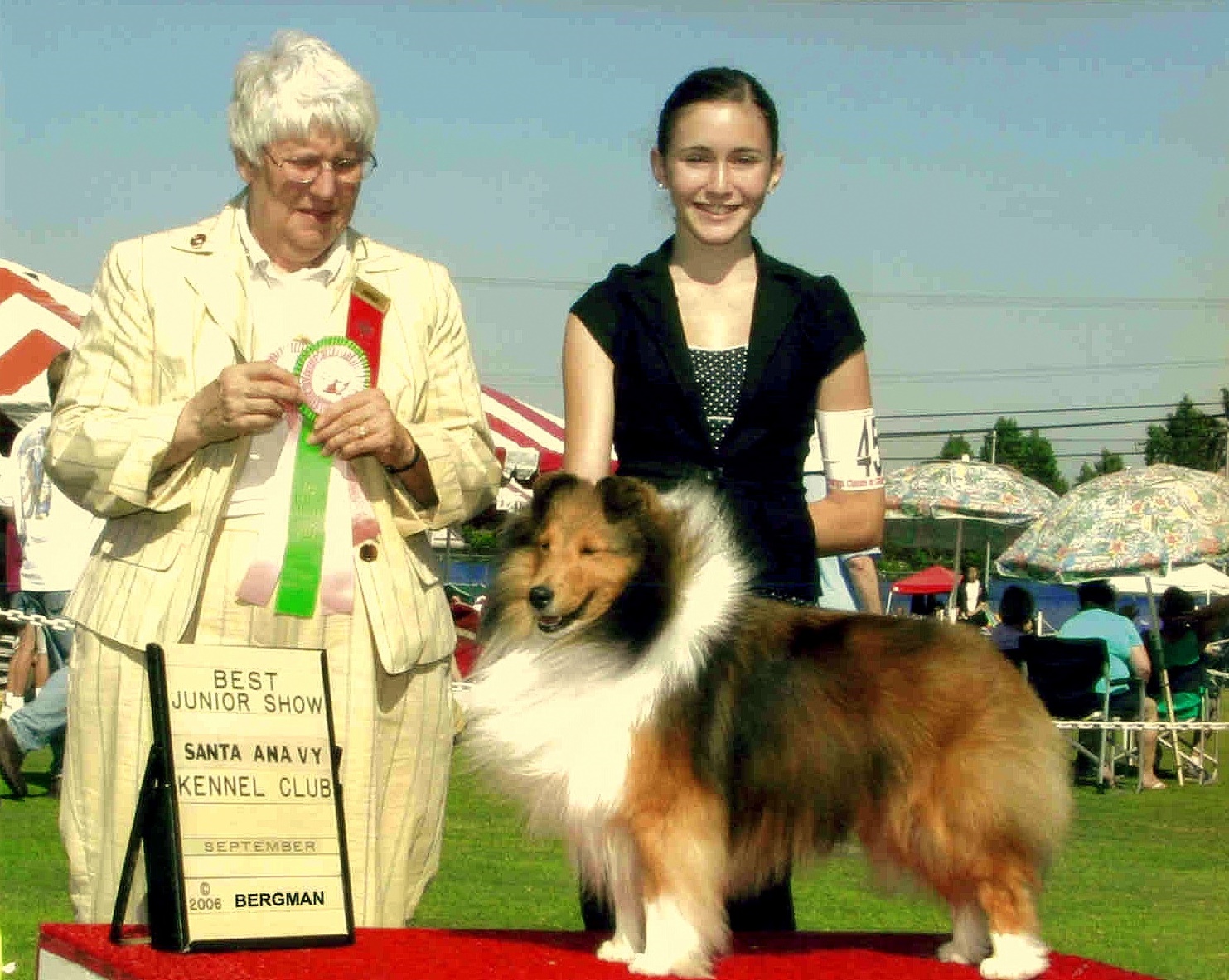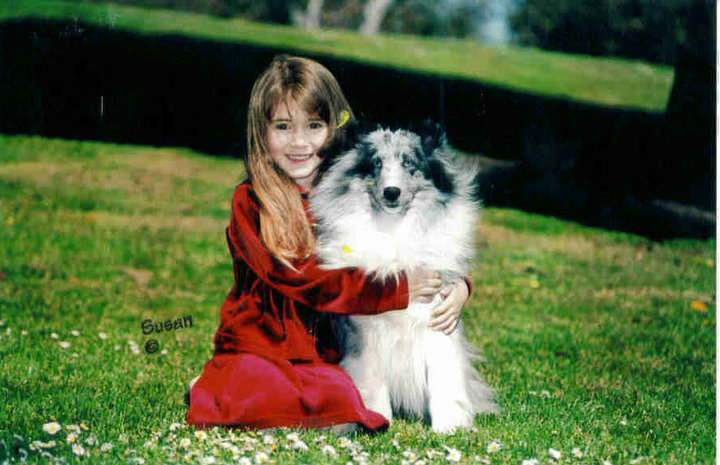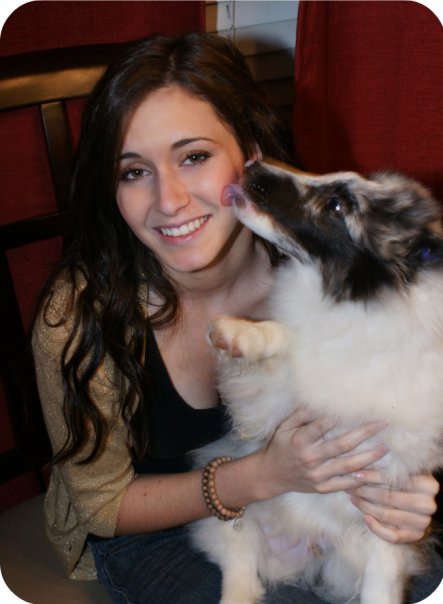 My name is Jade Jimenez, I'm 17 years old and have been showing since I was 6. I am Jennifer's daughter, and Robin's grandaughter. I enjoy the dogs very much & have tried to be an asset to Karosel Shelties, as I have always enjoyed being the puppy socializer. I have been doing conformation since I was six, and juniors since I was twelve. I love both for different reasons, but I find it more relaxing & less stressful to show in conformation. Conformation is all on the dog, but juniors is all on the handler! My conformation dog is Gemma, so watch for us in the ring in the fall, because right now she is busy being a mommy to six puppies. There's lots of information on here about my career; feel free to read about it.

Latest additions/news to my page: A Best of Breed win photo and Best of Opposite Sex win photo of GCH. Karosel After Party are in my Win Photos link lower on the page :) The Best Op one is also posted near the bottom of this page

Myself and Karosel Lizzy (7 yrs. old)

Myself and Solange CopaCabana (11 yrs. old)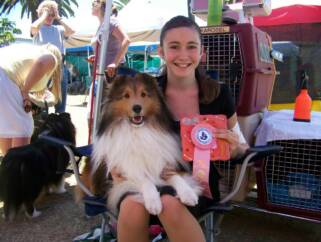 Myself and Ch.Karosel Seeking Fame

I decided to start competing in Jr. Showmanship after many years of competing against adults in the conformation ring. I was blessed and was off to a great start as I quickly won three novice intermediate classes in a row, and won a handful of Best Junior prizes as an Open Intermediate competitor. I now currently show in Open Senior. Seeker and I made the perfect team and had a blast together!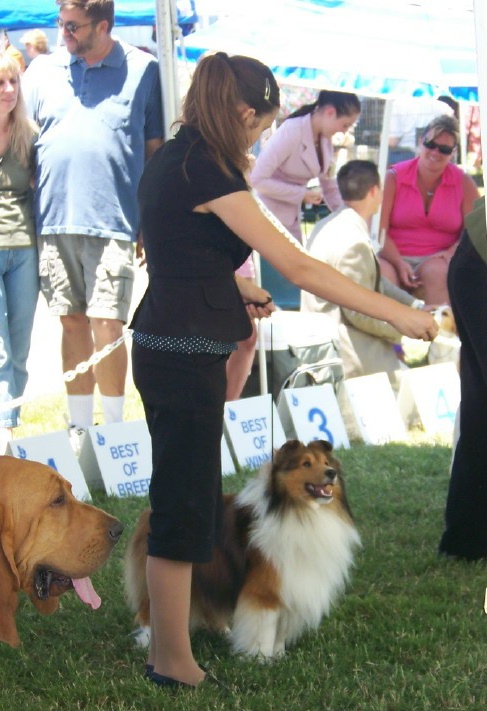 Jade wins her first Best Junior in Show at the Santa Ana Kennel Club Show!!!!!  Way To Go Jade and Seeker!!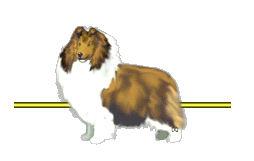 Jade and Seeker in action!!!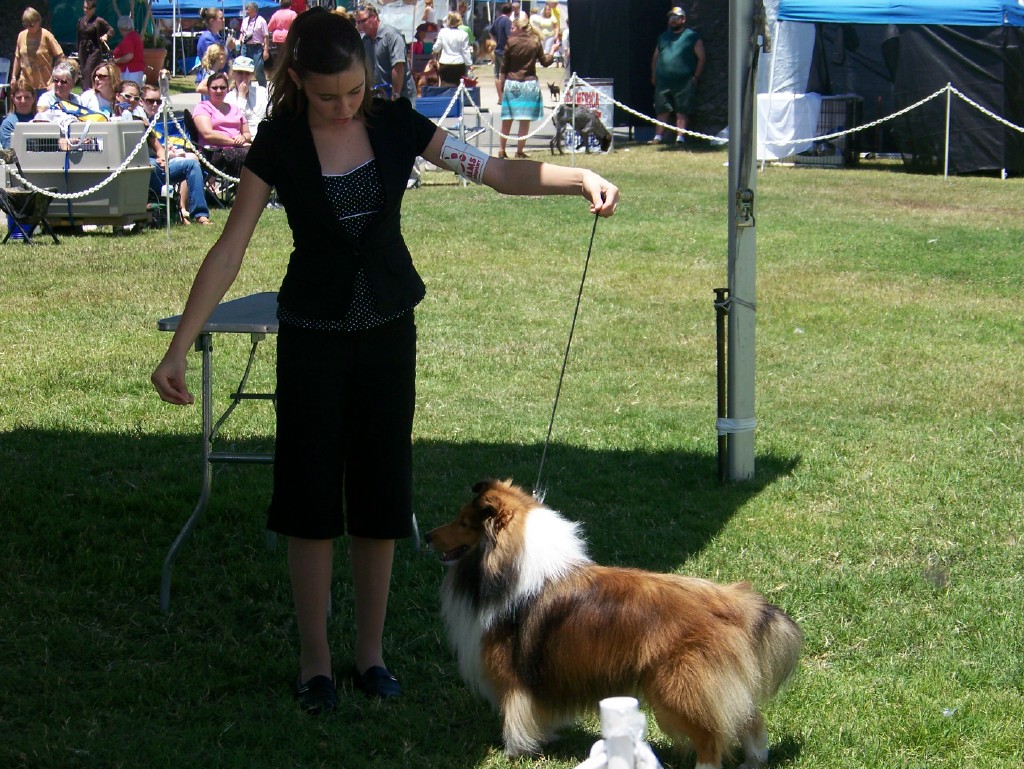 Jade took third place in the open intermediate class at the ASSA National 2007

MOST RECENT 2011:

I am now showing G. Ch. Karosel After Party (Tucker) in Junior Showmanship Open Senior class and occasionally in Best of Breed. Also, I occasionally show Ch. Karosel Confetti (Carrie), BISS CH. Sea Haven Karosel Starscape (Lydia), and my mother's blue merle smooth collie Kimberee Passionate Kisses O'Lorimar (Jordan). I will also be judging my first Sheltie Specialty in February of 2012!!! Gotta study my Shetland Sheepdog Standard! Below are the beautiful dogs I show, so feel free to check out their pages, and also my old statistics and our show list. I enter about as many as my mother, Jennifer, so I am entered/ing most of the listed shows. Also, I just got a litter out of my Gemma (Karosel Kissable) x Ch. Karosel Drakkar! 6 puppies! Pictures in the nursery!

Jade winning Best Jr at the Santa Maria Kennel Club

Myself and my first sheltie, Lizzy, in 1998.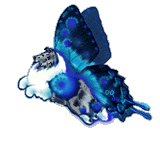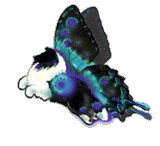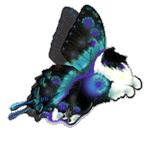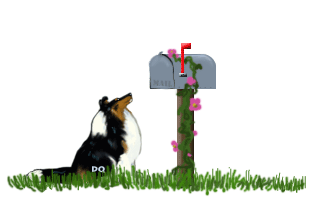 Email me!  jvsheltie@hotmail.com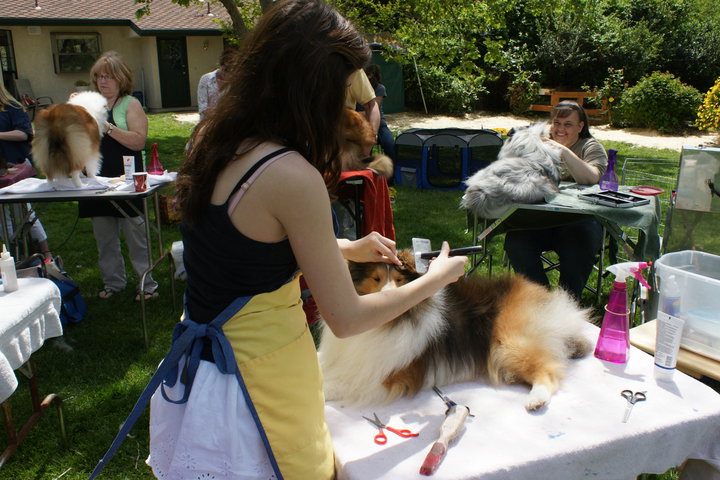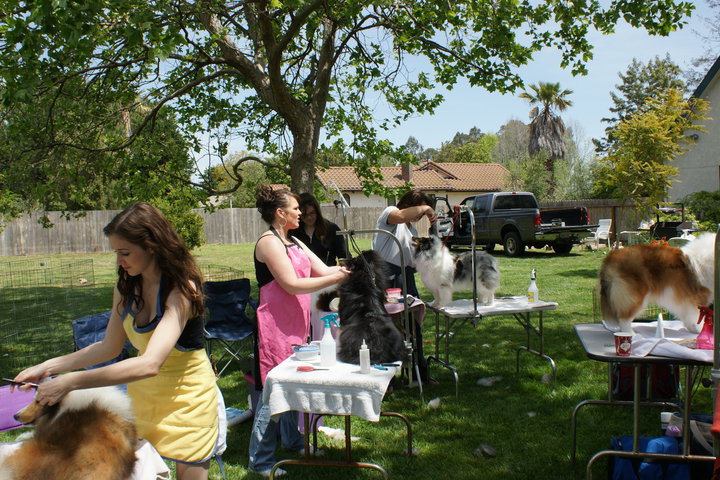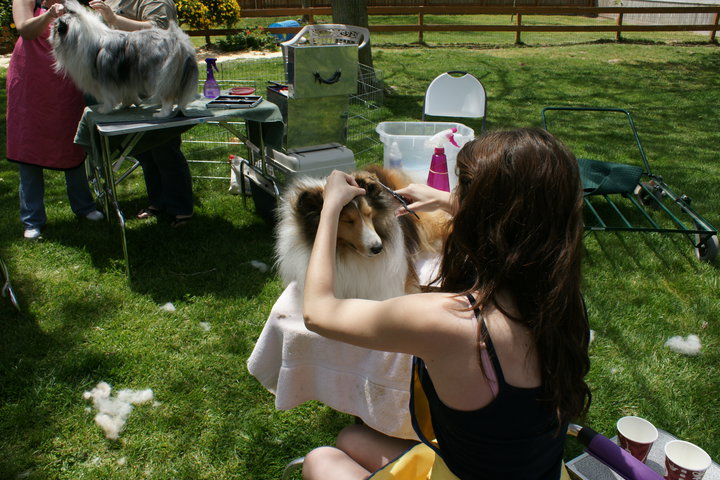 Jade grooming Maddox at the Karosel Grooming Seminar in April 2010.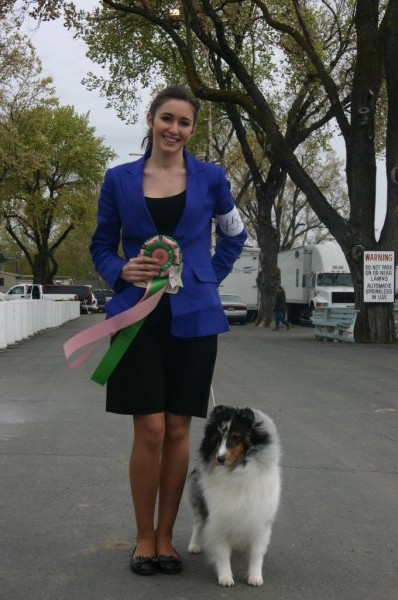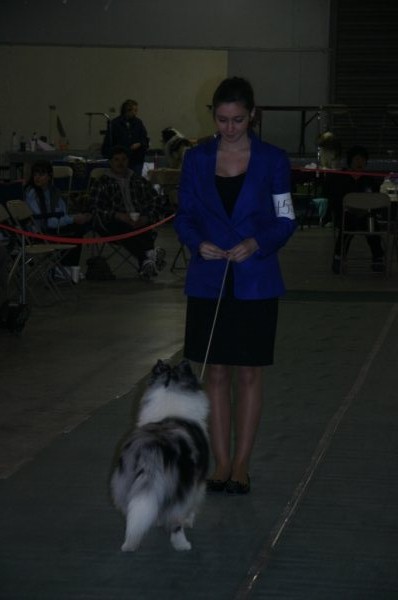 Jade and Lydia at Dixon, California winning Best Junior

Last updated: 11/29/2012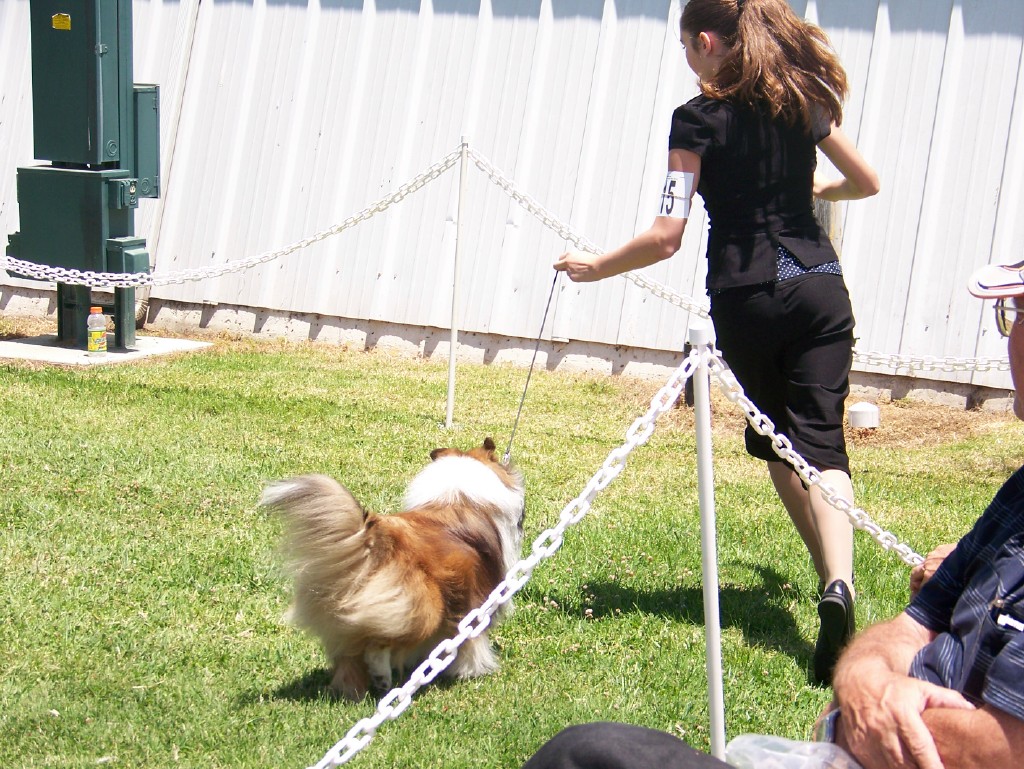 Jade's Junior Showmanship Stats 2011

Check back on my progress every once in a while.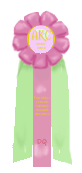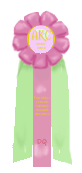 Beginning my Conformation Career:

Beginning my Juniors Career:


Having been born into shelties, naturally I wanted to show like my mother and nana did. Back then, it was all fun and games, but it was nice to win every once in a while. Unfortunately I didn't do a lot of winning, as I discovered back then that the dog show world can be a bit silly, as some judges may have looked past my dog and I because I was a child. I was always discouraged at that, but I did manage to put 2 points on my dog, Lizzy, and Salsa as pictured, which were some of the greatest memories I have of my childhood, mainly because I did it all by myself and beat the adults ;)
Robin and Jade

Gemma winning her first point!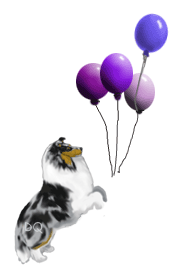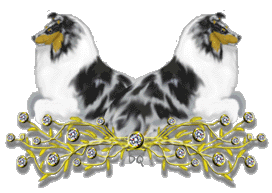 San Fernando Kennel Club (Ventura)

Sat. January 22, 2011 Mrs. Joanne Paulk







Open Senior Class:
2nd  in a class of 2
Ventura County Dog Fanciers Association (Ventura)

Sun. January 23, 2011 Mrs. Judy Thill   







Open Senior Class:
1st in a class of 2















    Best Junior Class:
Won Best Junior over 9 other juniors
Shetland Sheepdog Club of NorCal (Santa Clara)



   Open Senior Class: 1st in a class of 1
February 19, 2011 Mrs. Debra Nordby






       Best Junior Class:
Won Best Junior over 1 other junior
Kings Kennel Club of California (Hanford)

Sat. March 5, 2011 Mrs. Beverly R. Anderson






Open Senior Class:
2nd in a class of 2















Sun. March 6, 2011 Mr. Gary L. Anderson






      Open Senior Class:
1st in a class of 2















    Best Junior Class:
Won Best Junior over 4 other juniors
Sacramento Valley Shetland Sheepdog Club (Dixon)

Sat. April 2, 2011 Mr. Rick Thompson







     Open Senior Class:
1st in a class of 1















    Best Junior Class:
Won Best Junior over 3 other juniors
ASSA National (Missouri)

Sat. April 23, 2011 Mrs. Barbara Keneally






     Open Senior Class:
4th in a class of 6
Los Encinos Kennel Club (Pomona)

Sun. May 29, 2011 Mrs. Deborah L. Anthony






   Open Senior Class:
3rd in a class of 6
Antelope Valley Kennel Club (Pomona)

Mon. May 30, 2011 Mrs. Nancy Smith Hafner






Open Senior Class:
4th in a class if 4
Kennel Club of Pasadena (Pasadena)

Sat. June 4, 2011 Mr. John F. Booth








Open Senior Class:
1st in a class of 1















Best Junior Class:
N/A
Kennel Club of Pasadena (Pasadena)

Sun. June 5, 2011 Ms. Ann A. Kennedy







     Open Senior Class:
1st in a class of 3















Best Junior Class:
N/A
Channel City Kennel Club (Ventura)

Fri. July 8, 2011 J Mrs. Joan P. Anselm







   Open Senior Class: No placement in a class of 6
Santa Maria Kennel Club (Ventura)

Sat. July 9, 2011 Mr. Christopher T. Neale

Ventura Co. Dog Fanciers Association (Ventura)

Sun. July 10, 2011 Mrs. Terri Lyddon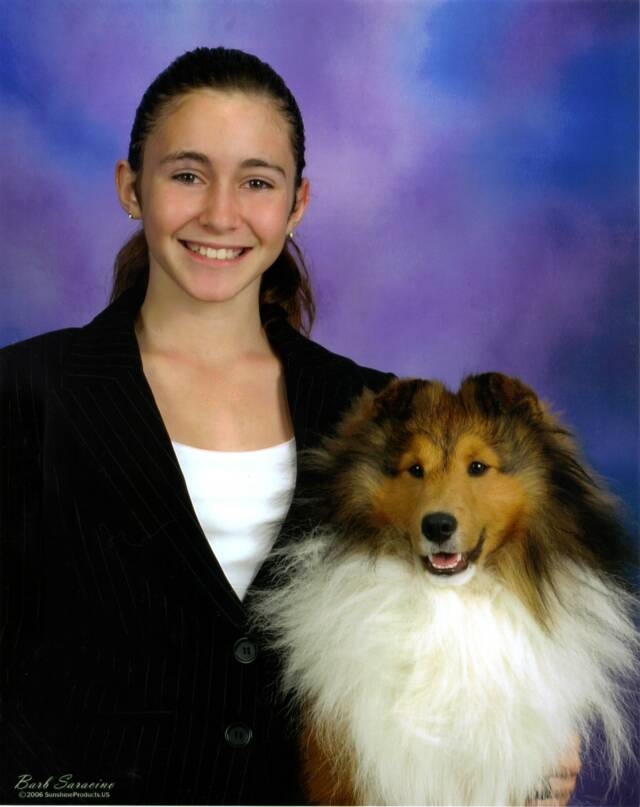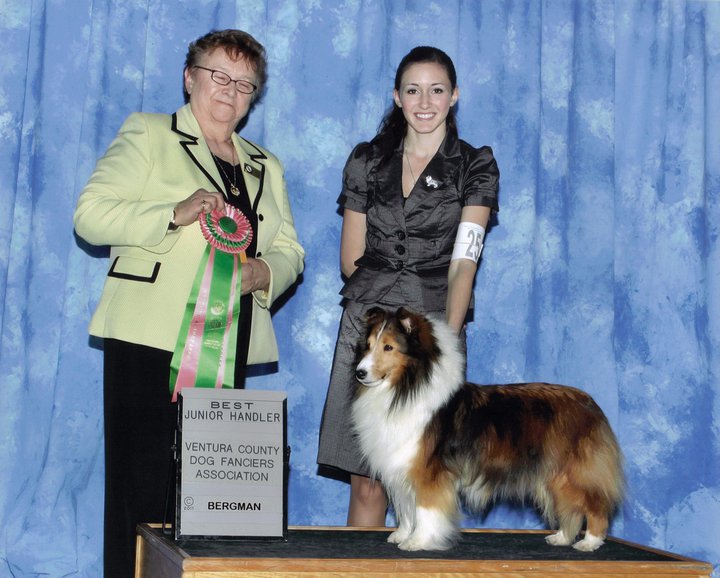 A January win photo with

Ch. Karosel Confetti, "Carrie" :)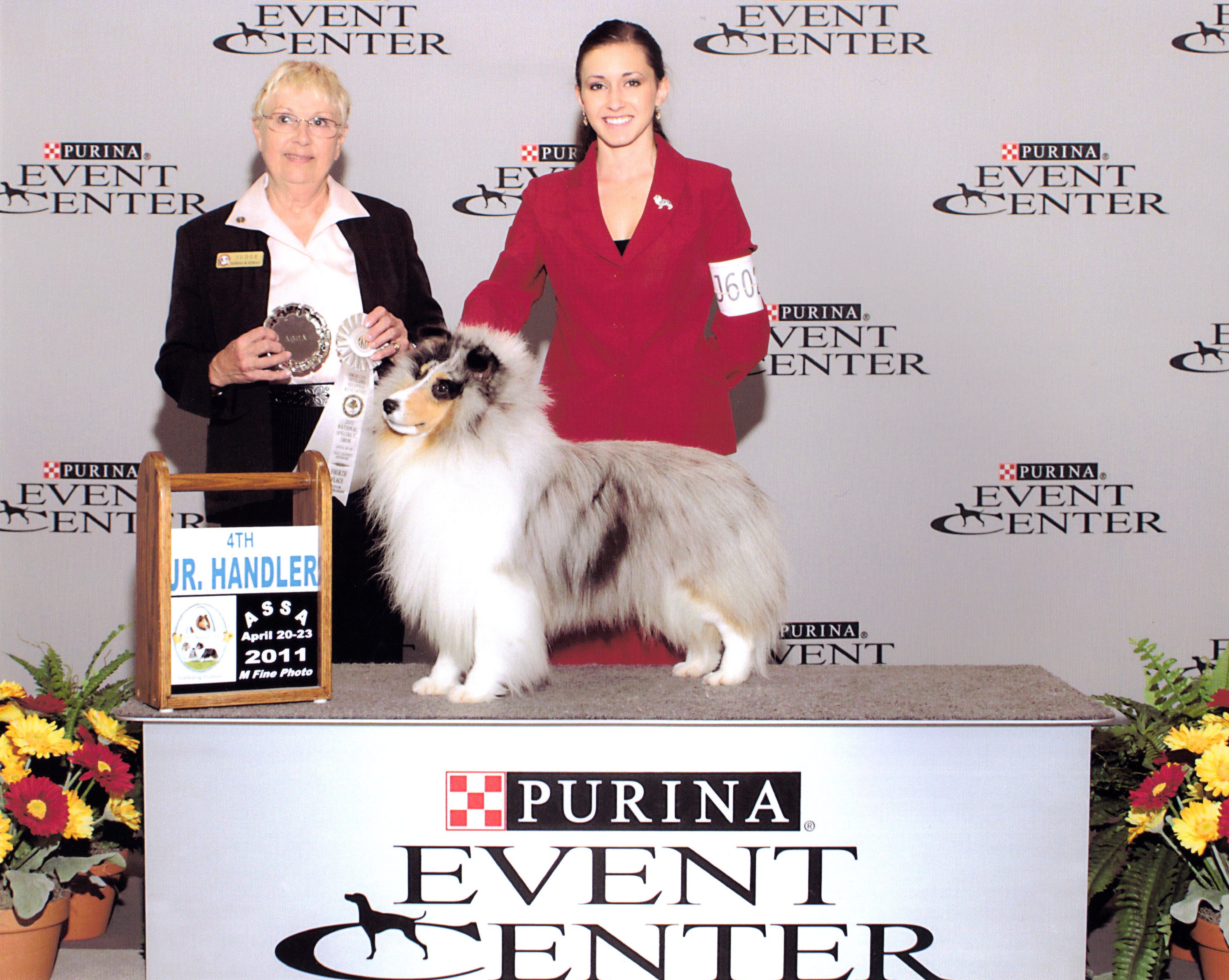 Showing in the Open Senior class at the ASSA National show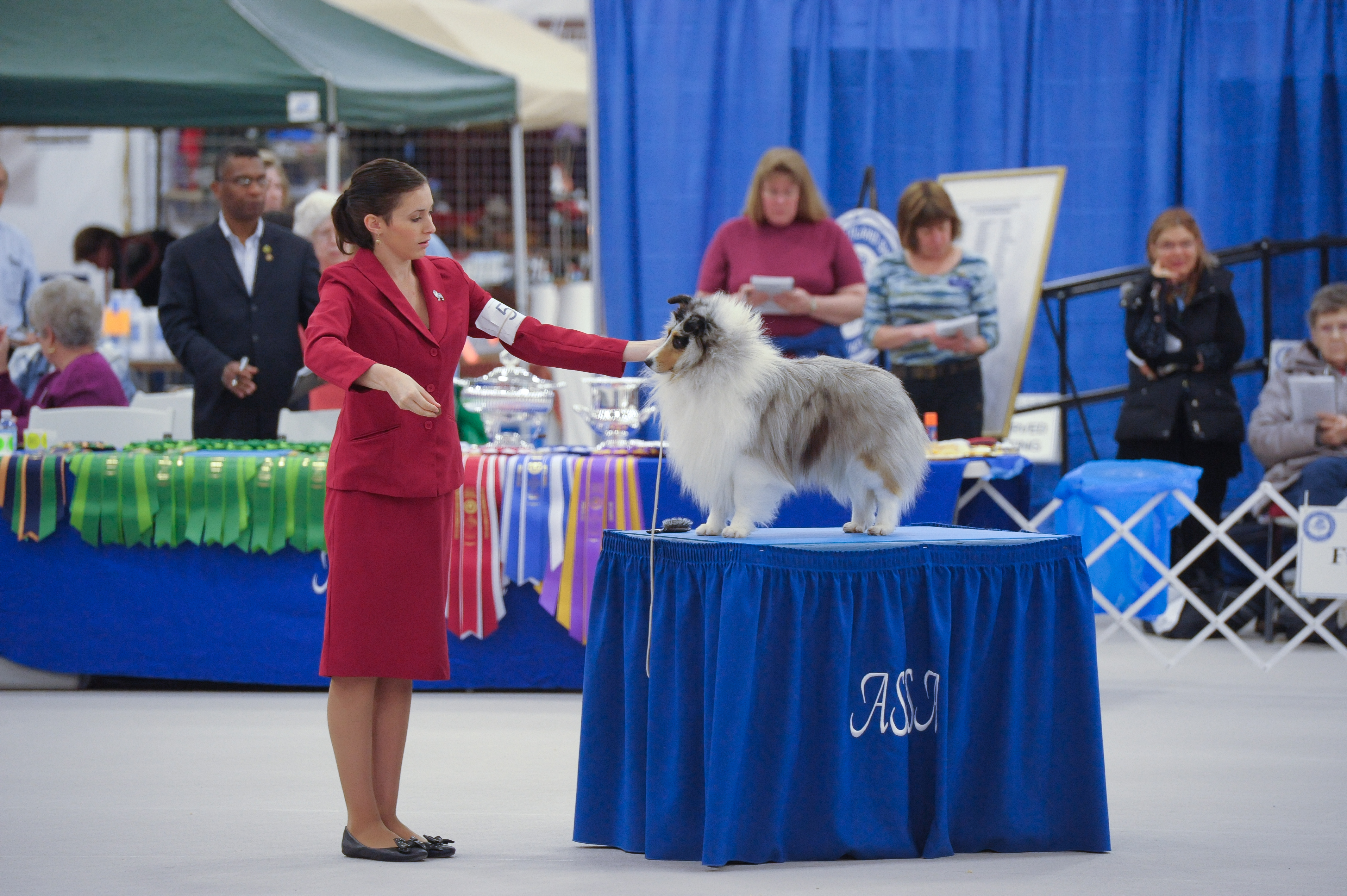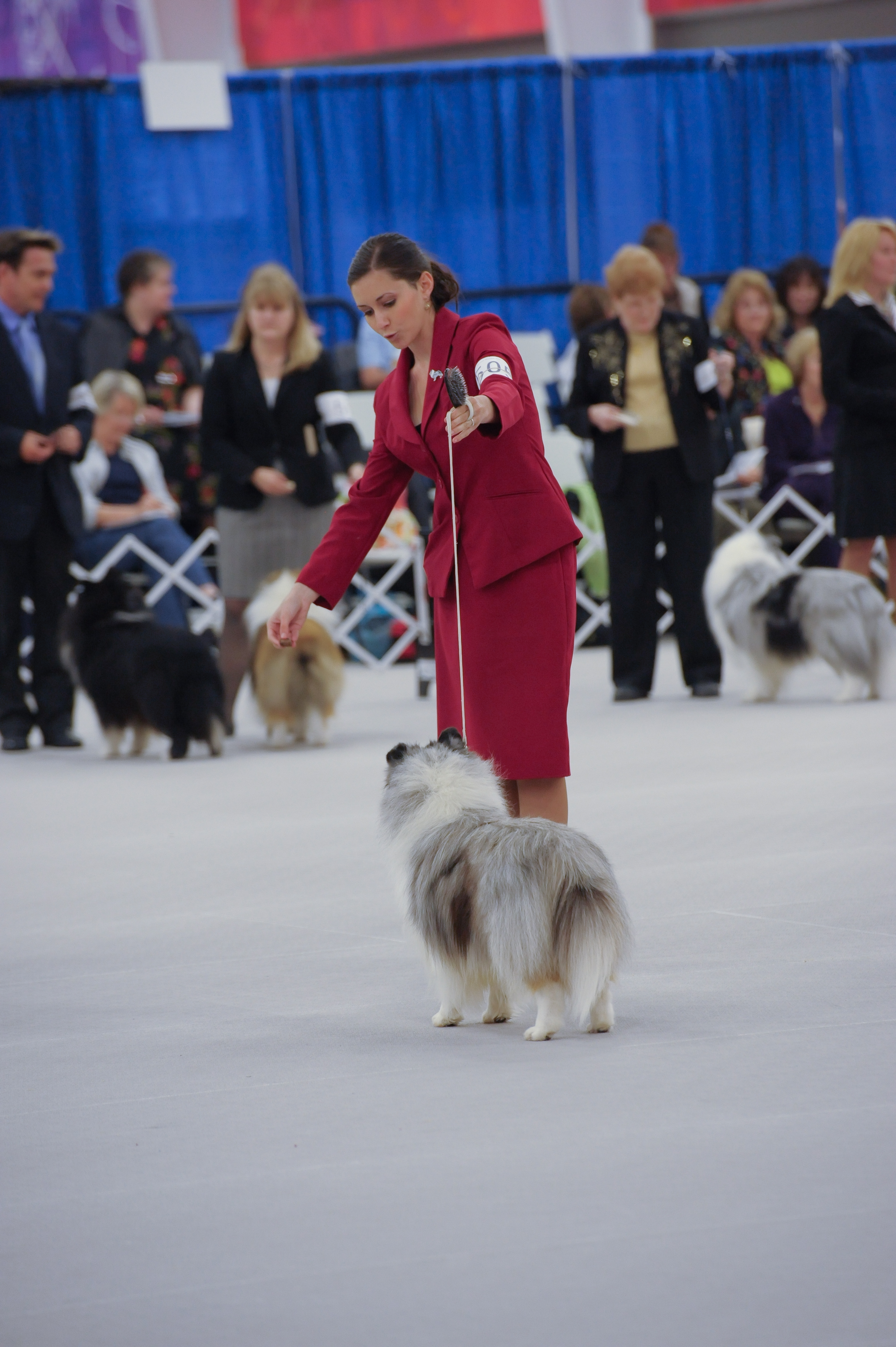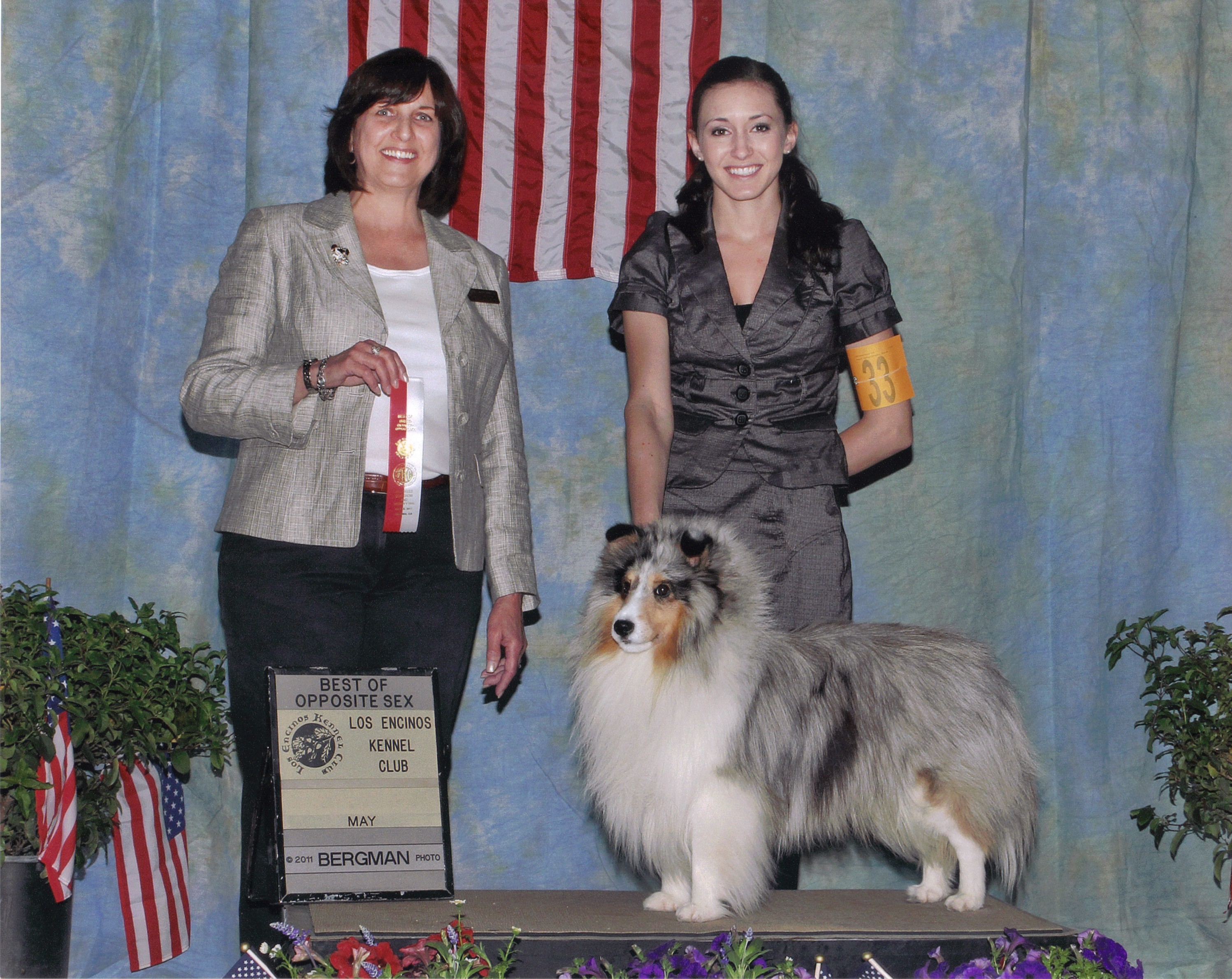 I also special Tucker in best of Breed from time to time. Here, Tucker was awarded Best Opposite Sex in May